Mobile phone users can reach their friends anytime, but we wanted to test a new way of communication. This system provides a new way of community communication.
What can Bluespot do?
 If someone sends a message in this system, the addressee of it is not a certain person, but a certain place. This means that all the people who are in that place receive all the messages. We could say it's like a meeting where everyone hears what the other participants' say. Many partners took part in the design and development of the system. Our tasks were programming the central server and technical project management. The project coordination was the task of András Kangyal fromGuanxi (and the documentation also comes from them). To learn more about each and every participant, and to read a more detailed description, please visit the homepage of the project.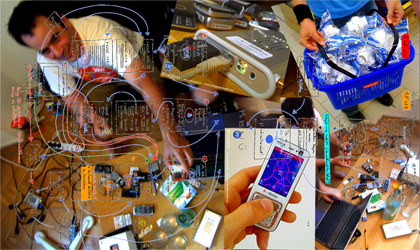 How does it work?
We installed a device to every BlueSpot spots (bars, cafés, shops, etc.) which are all connected to one another via the Internet. As we enter the range of a spot, we are able to send messages to the other 46 spots.
How can I connect?
When you enter the range of a bluespot, it sends a mini application to your phone via bluetooth. After this, the application called j2me is able to communicate with the bluespot via bluetooth connection – linking you to the system this way. If you leave the range of the spot, the signal and the connection are lost.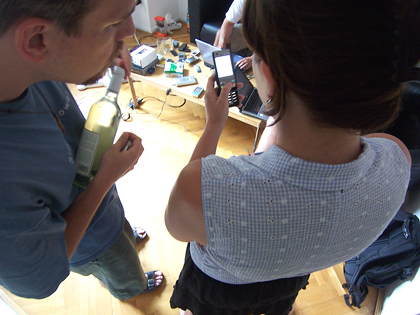 For the outdoor spots, we made a version operating by solar cells, but unfortunately it would have been too expensive to utilize it.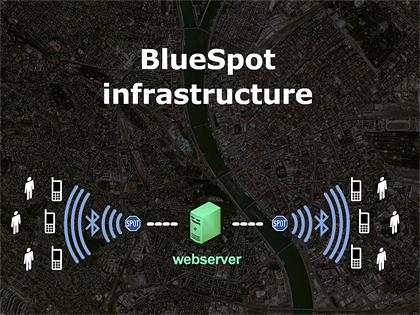 The system uses bluetooth and Internet connections.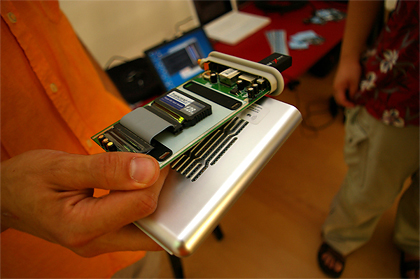 The final Bluebox toolkit is a ASUS-WLAN-HDD box with a memory card and a bluetooth conduit/??? connected by a USB cable. The system runs under/with openWrt linux, where python script handles the connections. Each bluebox is connected to the central server, where we also use open source systems. Debian linux, php, postgres sql.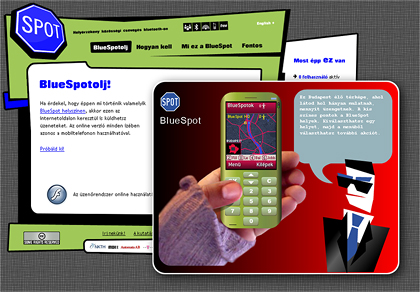 Connecting to the BlueSpot system is also available on a homepage, with the flash version of the mobile client.
During the successful test phase of the system, many people used this application. But for really interesting conversations, there were not enough people in the system, probably due to the high entry barriers (not everyone had a compatible mobile phone that time). In today's technological environment, it would be much easier to promote this system.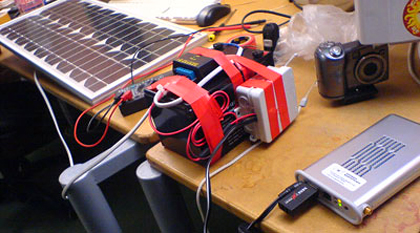 Media
Agent Portal [hungarian only]
Index.hu [hungarian only]
Origo.hu [hungarian only]
Zarf.hu [hungarian only]
Telekom.hu [hungarian only]
Meetup.hu [hungarian only]
Kitchen Budapest
BPCITY